E-Safety
Welcome to Sherrier's E-Safety Page.
Firstly, we would like to make you aware of CEOP, which is the government's Child Exploitation and Online Protection Centre. If you wish to report some inappropriate content or behaviour online then click on the button and follow the directions on their pages.

We would also like to introduce you to a new industry backed website for parents which aims to provide a good understanding of issues affecting children today. Take a look here:
Each year, countries around the world celebrate Safer Internet Day.This year's event takes place on Tuesday 5th February with the theme "Together for a better internet".
Computers are everywhere. No matter where we go, there is no escaping their reach. Children are growing up in a world where these devices are common in our everyday lives. In fact they are becoming more and more common every day as new technologies and software becomes easily available. Unlike many adults, children are not fazed by computers and smart devices and accept them as part of their way of life.
We at Sherrier acknowledge that computers, devices and of course the internet are all amazing technologies both now and for the future. However, we are aware of the necessity to keep our children safe when using these technologies. We see the benefits that computing brings to the way of learning, the social interaction that it allows and the advances in learning that it offers across all aspects of education and life.
Throughout all years, children are introduced to the skills of computing, including how to use technologies, how to write new computer programs but importantly how to keep themselves safe. We are aware that children can not be kept in a perfectly safe computing bubble, recognising the need to allow them to engage with computing and computers but also providing them with the tools and the knowledge to become E-SAFE.
YOU can help your child - and yourself - become more E-SAFE by keeping up to date with technology and the issues surrounding them. There is a very good website that offers information to a range of apps for tablet computers and fantastic information on how to keep E-SAFE online. http://www.fundamentallychildren.com/
The following web links provide a wealth of information for you and are provided by industry experts.
CBBC Stay Safe: a website full of games, videos and other interactive content from the BBC.
Childnet International: a non-profit organisation working with others to "help make the Internet a great and safe place for children".
Digitally Confident – Parents: The Northern Grid's website to help keep you up to date with on-line / digital life.
UK Safer Internet Centre: Here you can find out the latest advice on how to use the internet and new technologies safely and responsibly. Also find a range of practical resources, news and events focussing on the safe and responsible use of the internet and new technologies.
Know IT All for Parents: Childnet's multi-award-winning suite of education resources designed to help educate parents about safe and positive use of the internet.
McAfee Family Safety Blog: Feeling overwhelmed by all the threats that could affect your family? Our bloggers provide you with the latest security tips and online trends to save you time, and keep your family safe.
McAfee Cyber Education Website
Thinkuknow: The Child Exploitation and Online Protection (CEOP) Centre's online safety site, where you will find advice and tips for children, adults and professionals of all ages.
Browser Safety Tools: CEOP provide children with instant access to CEOP browser tools, so children can learn how to protect themselves online.
Kidsmart: is a great site for children to learn about the safe use of variety of online services and devices. There are also pages for parents.
Kidscape: a charity set up to deal specifically with bullying and child sexual abuse.
Bullying UK: a website aimed at providing guidance and support in regards to bullying.
Vodafone Digital Parenting: Vodafone have got together with a range of industry experts to provide you with helpful information and guidance on a range of e-safety topics.
Vodafone Digital Parenting Magazines: These informative guides are published regularly and we have sent them out to parents when they become available to us. You can visit this link to view each of the editions published so far.
SIP Benchmark looks at the tools available for parents across Europe to assist them in the protection of children who are on-line. It looks at each tool (piece of software) and ranks it according to its functionality, effectiveness and usability.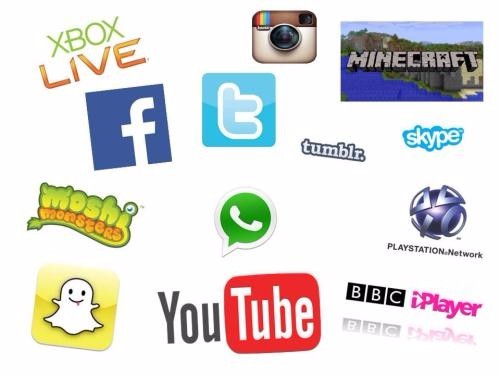 The current landscape of the ever changing internet (above).
Do you recognise the above websites or apps? Many of your children WILL even if you don't. We advise that you familiarise yourself with the available platforms for photographic upload/download, socialising and video viewing. Whilst the original use of all of the above were introduced to offer a positve experience on the internet, we must bear in mind that some individuals will abuse the power and accessibility of the net and therefore make young people vulnerable, upset or offended. All of the above are accessible via the use of Smartphones, Tablets, Smart TV's and many Games Consoles. The advice of keeping that desktop computer in the lounge is now out of date as the internet can be accessed almost anywhere and on an ever growing number of devices.
Are you able to help create a better internet? Click here to take the quiz (UK Safer Internet Centre)
Think U Know helps you find out the latest information on the sites you like to visit, mobiles and new technology.
Disclaimer
During our teaching and on school trips we find it useful to take photographs and videos/webcam recordings for displays and use in school.
We may take photographs of the children at our school. We may use these images, for example, in our schools prospectus or in other printed publications that we produce as well as on our website.
We also have a Twitter page where we like to share some of the many great things we do in school which you may ordinarily not get to see or hear about. We love to be able to share photos and videos of things happening on the day in school. It is also a great way to share urgent communications, reminders and information with you. From time to time, our school may be visited by the media who will take photos or film footage, for example of a visiting dignitary or other high profile events. Pupils often appear in these images which may appear in local or national newspapers, or on televises news programmes.
To comply with the General Data Protection Regulation (GDPR) and DPA 2018, we need you permission before we can photograph or make any recordings of your child. Please ensure that any changes in your choices are communicated to school immediately.
Conditions of Use:
It is the responsibility of those with parental responsibility to inform us of any changes you wish to make regarding the use of your child's image.
We will not re-use photographs or recordings after your child leaves this school. Although if an image is already in use we may continue to use this.
We will not use the personal details or full names (which means first names and surname) of any child or adult in a photographic image or video, on our website, on our Social media page, in our school prospectus or in any printed publications, unless we have a specific parental permission. We may use first name and surname initial -- i.e. Johnny B
We will not include personal e-mail or postal addresses, or telephone or fax numbers on video, on our website, on our Social media page, in our school prospectus or in other printed publications.
We may include pictures of pupils and adults that have been drawn by the pupils.
We may use group or class photographs or footage with very general labels, such as "a science lesson" or "making Christmas decorations".
We will only use images of pupils who are suitably dressed, to reduce the risk of such images being used inappropriately.
We trust and hope that parents respect our Social media page, but should there be any abuse or derogatory comments then we will take action appropriate to the comment in the same way as if it happened in the real world.
Only school staff will be permitted to post photos/videos on to the Social media page.
CEOP is the government's Child Exploitation and Online Protection centre, if you wish to report some inappropriate content or behaviour then click on the button and follow the directions on their pages.